CreVisual Fast cooling Fine Pitch screens: excellent heat dissipation performance and Low light attenuation: Because the CreVisual Panel Special Layout design, the main heat part is directly dispensed onto the frame, the area of heat dissipation is wider than normal products in the market.
The back up system support no black out for the screens and stable running 24hrs per day.
Mature Pitch Options from 0.7mm, 0.9mm, 1.2mm, 1.5mm, 1.8mm

Smooth Quality
Longer Lifetime
Integrated die-cast aluminum design, 360° all-round heat dissipation, longer life.
Better Visual Angle
Black disc lamp has better visual angle and higher appearance contrast.
Great Flatness
Fine aluminum base board which is cold processing ensure the best flatness. Flatness torlerence ≤ 0.1mm.
Low Brightness/High Gray Scale
Module-level point-by-point calibration design, power-on automatic balance correction.
Professional Image
Up to 3840Hz high refresh rate keeps it high quality display performance, no water waves or screen flashing.
Low Voltage Power DC
low voltage power supply, natural heat dissipation, no fan, zero noise.
Response Time
LED response shortly in nanosecond level without smearing or double image effect.
Snap-in Mask Design
With snap-in mask design, no deformation after the
display with long-time running, with highly consistent dark color mask, achieving high contrast.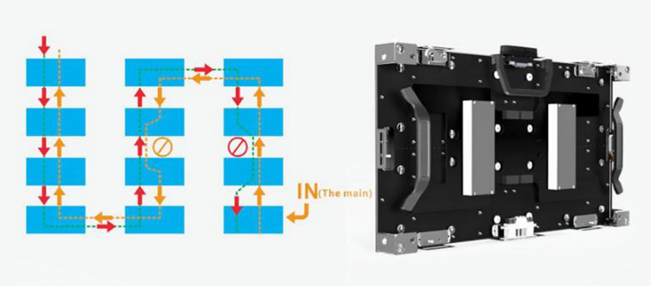 Dual Signl& Power Supply Standby
Ensuring 7X24 hours uninterrupted working,
unnecessary to face the emergence.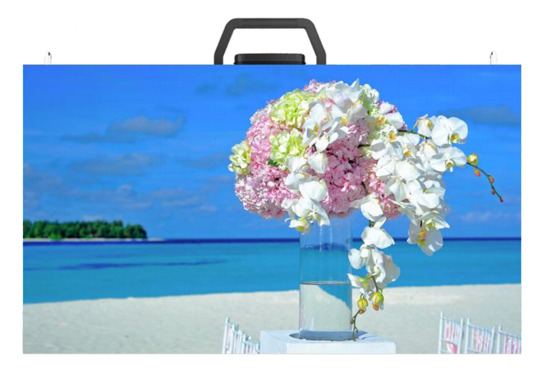 High Gray Level and Refresh Frequency
Adopting low brightness with high gray level and refresh
frequency, making the display effect more bright and vivid,
meeting various high-end application needs.
Front maintenance design. CVH Series is with fully front access cabinet design. After the modules are removed by magnet tool, the power supply, receiving card, cables, etc. all could be removed in the front.
Golden aspect ratio cabinet size. The cabinet size is has 16:9 aspect ratio and 8:9 aspect ratio, which is able to set up standard 2k or 4k screen resolution easily.
Large viewing angle with seamless connection. The cabinet is die-casted by high precision CNC machine, when we set up the panels for a big screen, there will be no gaps between two contiguous panels. Meanwhile, high quality plastic mask covered the modules makes the flatness of the screen are very even, thus the viewing angle is up to 160°or even larger.
Neat cabling. All of cabinets are hidden inside the cabinet, the back of the screen looks very neat, and it is IP65 in the rear which isolated the dust and humidity.
Great gray scale, high refresh rate and excellent white balance. Our screen is used high quality material, the gray scale is up to 14bits, refresh rate is up to 2880Hz - 3840Hz and the white balance is very pure. So performance of the screen is extraordinary and stable.
Flexible installation and high reliability. The screen could be curved or 90 degree angle installation, which brings more flexibility of installation. The screen is designed for 24x7 reliable performance, it truly is one of the best LED display products in the world.
Parameter
Item
Pixel Pitch
LED Type
Module Size
Cabinet Size
Optimal View Distance
Brightness
Driving Mode
IP Grade
Refresh Rate
Gray Scale
View Angle
Average Power Consumption
Input Voltage
Operation Temperature
System Operation
Weight of Panel
P0.9

0.9375mm

SMD4in1

300mm * 168.75mm

600 * 337.5 * 58mm

less than 1m

>800 nits

1/32 scan

Front: IP43 / Back: IP65

2880Hz - 3840Hz

14 bits

H:160° / V:160°

350W / sqm

AC220V / AC110V (±10%)

-20℃ ~ 60℃

Windows (Win7, Win8, etc.)

7kg/cabinet

P1.2

1.25mm

SMD1010

160mm * 180mm

320 * 360 * 58mm

1m

>800 nits

1/32 scan

Front: IP43 / Back: IP65

2880Hz - 3840Hz

14 bits

H:160° / V:160°

350W / sqm

AC220V / AC110V (±10%)

-20℃ ~ 60℃

Windows (Win7, Win8, etc.)

4.5kg/cabinet

P1.3

1.3332mm

SMD1010

160mm * 180mm

320 * 360 * 58mm

1m

>800 nits

1/27 scan

Front: IP43 / Back: IP65

2880Hz - 3840Hz

14 bits

H:160° / V:160°

350W / sqm

AC220V / AC110V (±10%)

-20℃ ~ 60℃

Windows (Win7, Win8, etc.)

4.5kg/cabinet

P1.6

1.6666mm

SMD1010

160mm * 180mm

640 * 360 * 58mm

1.5m

>800 nits

1/27 scan

Front: IP43 / Back: IP65

2880Hz - 3840Hz

14 bits

H:160° / V:160°

350W / sqm

AC220V / AC110V (±10%)

-20℃ ~ 60℃

Windows (Win7, Win8, etc.)

7.4kg/cabinet

P1.8

1.8822mm / 1.875mm

SMD1515

160mm * 180mm

640 * 360 * 58mm

2m

>800 nits

1/32 scan

Front: IP43 / Back: IP65

2880Hz - 3840Hz

14 bits

H:160° / V:160°

350W / sqm

AC220V / AC110V (±10%)

-20℃ ~ 60℃

Windows (Win7, Win8, etc.)

7.4kg/cabinet

P2.5

2.5mm

SMD2121

160mm * 180mm

640 * 360 * 58mm

2.5m

>800 nits

1/24 scan

Front: IP43 / Back: IP65

2880Hz - 3840Hz

14 bits

H:160° / V:160°

350W / sqm

AC220V / AC110V (±10%)

-20℃ ~ 60℃

Windows (Win7, Win8, etc.)

7.4kg/cabinet

P0.9

0.9375mm

SMD4in1

300mm * 168.75mm

600 * 337.5 * 58mm

less than 1m

>800 nits

1/32 scan

Front: IP43 / Back: IP65

2880Hz - 3840Hz

14 bits

H:160° / V:160°

350W / sqm

AC220V / AC110V (±10%)

-20℃ ~ 60℃

Windows (Win7, Win8, etc.)

7kg/cabinet

P1.2

1.25mm

SMD1010

160mm * 180mm

320 * 360 * 58mm

1m

>800 nits

1/32 scan

Front: IP43 / Back: IP65

2880Hz - 3840Hz

14 bits

H:160° / V:160°

350W / sqm

AC220V / AC110V (±10%)

-20℃ ~ 60℃

Windows (Win7, Win8, etc.)

4.5kg/cabinet